Checking in
We are reducing the need for you to visit Reception. This will include check-in from your accommodation, phoning or messaging rather than visiting Reception. In the event you do need to visit, you will find an outside hand sanitisation point and a social distancing queue line where you will need to follow instructions and marker points.
Restaurants
Sadly, we will not be able to offer our full range of catering services on the resort. This will be in line with government guidelines. A takeaway service available from our venues, all ordered via an app. This includes a range of child, adult meals and drinks. Payment can be made via contactless or card.
Resort Supermarket
Our supermarket will have a hand sanitiser point at the entrance.
Strict social distancing measures will be in place via floor markings and capacity of numbers in the allowed in the store.  We ask that you avoid touching items you are not intending to buy. No un-accompanied children are permitted in the shop under 14. Maximum of 2 persons or family group will be permitted. Payment must be made by card or contactless, no cash. Our team will be regularly cleaning all touch surfaces throughout the day and will be provided with face coverings. From Friday 24th July guests are required to wear a face-covering inside the supermarket at all times in line with government requirements.
Maintenance and first aid services
Will be available but there will be some additional measures for our team's safety
Minibus shuttle service
There will be no evening minibus service due to inability to social distance customers.


Indoor entertainment facilities/bars
At the moment such facilities will be closed to the public, until government restrictions are lifted and the service risk assessed.
For this reason we will not be able to offer a full entertainment programme. Look out for our virtual interactions with our characters and head of entertainment Chunkie Russell. A children's activity guide is available in your welcome pack.

We have an outdoor stage area and covered marquee area to deliver LIVE entertainment.
Outdoor play area
Parents are required to accompany children as usual to supervise and to ensure they are social distancing from others. It is recommended to wash hands before and after visiting the play area.
Bowling/ Brean Play indoor soft play
At the moment this facility is closed to the public. Until government restrictions are lifted and the service risk assessed.
Brean Splash Waterpark and Gym
Outdoor splash will be open from Saturday 18 July -24 July ahead of the full re-opening on 25 July.
Our operation will be a little different as we comply to COVID secure procedures.
The safety of our team and guests and comes first. Capacity has been reduced significantly.
We are welcoming guests of Holiday Resort Unity with a privilege pass or static caravan owner or seasonal tourer owners pass.
We will be offering a fun splash session in the following outside areas between Saturday 18 - Friday 24 July.
👉Outside Seaside pool for under 12's.
👉 Serpentine Slide (single riders and under 8's on an adult's lap)
👉 Turbo drop slide (single riders over 8's)
The river ride is closed due to the inability for our lifeguards to social distance. Note there is no physical outside swimming pool - this is a fun splash session.
Session length is 45 minutes. One session per day per person.
Come 'swim ready'. No access to changing rooms. Outside toilets available. Please shower on returning to your accommodation.
Book your tickets online here. Holiday Resort Unity guest's £2 per person. (0-3 years free)Under 8's policy applies requiring 1:1 supervision for under 4's. 1 adult to 2 children 4-7 years. Privilege Passes and ticket must be produced upon entry (ticket on phone is fine). Sorry no spectators due to capacity.
Holiday Resort Unity static caravan owners, seasonal tourers enter for free however pre booking is still required.
Session times across the day from 10am. Once a session is full further sessions will be released. Check back for the release of each day's sessions.
The full Waterpark (excluding river ride) and Gym will open on Saturday 25th July. session length 90 mins and £4 a person for Holiday Resort Unity guests.
Brean Theme Park
The theme park will be opening from the 4th July. Their opening times are below: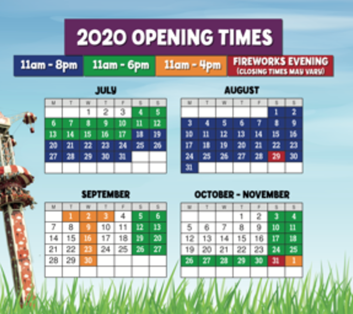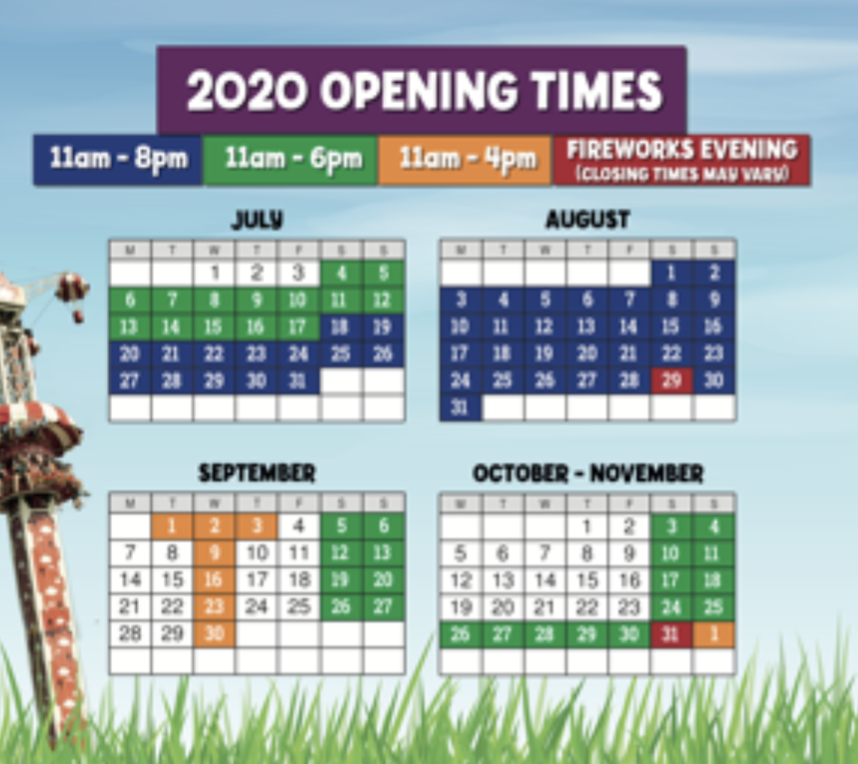 Public toilet facilities / including washroom facilities on camping fields.
These facilities are open with a reduced capacity to encourage social distancing. We require guests to be self-contained where possible in order to avoid congestion and queues.
Fishing and golf course
Available with social distancing measures and our standard rules for these activities apply.
What outdoor activities are available?
Bring your bucket and spade to create a sand masterpiece on the beach.
Take a stroll down our conservation walk and take part in our Geocache trail.
Cycle with the family via the Brean to Weston cycle path.
Relax in our Fishing lake on Resort
Play a round of golf and visit our 18 hole golf course.
Walk up the historic Brean down for fantastic views across the Bristol Channel towards Weston-super-Mare.
Take a short drive to Burnham-on-Sea or Weston-super-Mare for a beautiful walk along the seafront.
Feed the ducks and enjoy a walk around the large lake at Apex Park. Large free car park off Marine Drive, Burnham-on-Sea.
Take a drive through the world-famous Cheddar Gorge or a walk around the beautiful Cheddar Reservoir.
Walk along the Quantock Hills a listed "Area of Outstanding Natural Beauty" (30 minute's drive)
Conquer "Crooks Peak" the most mountainous summit of the Mendip Hills, overlooking the Somerset Levels and the Bristol Channel coastline.
Visit Glastonbury Tor is one of Somerset's most magical and mythical landmarks, wrapped in history and mystery.
Our Team
Our incredibly diligent team have been trained in all the change and additional precautions we are constantly making. As per government guidelines if they or a member of their household is experiencing COVID symptoms they will be self-isolating at home. Some of our team members may not be wearing face coverings. This is because for certain roles it is not mandatory.
Departures
Departure time is strictly 10am.
If you are in hiring accommodation for the safety of our cleaners we require you to strip the bedding from your beds and place in the bags that have been provided in the wardrobe of each bedroom. If you have towels please also put these in a separate bag. Prior to leaving open the windows in your accommodation (weather permitting) and leave your key at the designated drop off point.