04/10/2017
The children have not long been back at school, and now we are looking forward to half term and Halloween!
We have come up with some spooky activities, sure to keep your children occupied in the lead up to the event itself!
If you have young children, they may still be of an age where they are a little frightened of some of the ghostly goings-on, so why not try some of these non-scary options…
1.
Carve a happy pumpkin. Don't make him scary, make him smiley!
2.
Do some baking and make a pumpkin pie with the carved flesh, or make other friendly Halloween-themed treats!
3.
Watch age-related themed movies and TV shows, such as Monster Inc; Ben and Holly's Happy Halloween, Pooh's Heffalump Halloween, Curious George: A Halloween Boo Fest and Bedknobs and Broomsticks.
4.
Create homemade paper masks as these can de-sensitize children to seeing other youngsters in masks.
5.
Play traditional games such as apple bobbing, and rather than concentrating too much on spooks and ghouls, play autumn-themed party games that involve leaves and conkers or go on an autumn treasure hunt in your garden or a local park
6.
Read them happy Halloween stories rather than scary stories. Some of the books we would recommend are: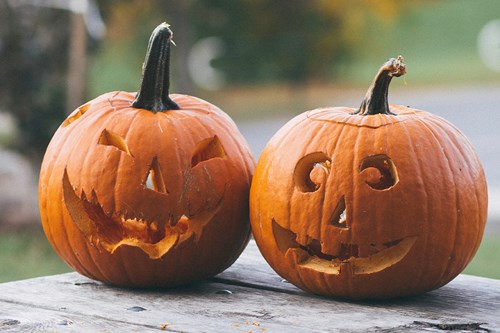 If you want to try trick-or-treating with toddlers and pre-schoolers, go while it's still light outside, and consider bringing them only to friends' and relatives' homes rather than out in your neighbourhood, where they might encounter more scary costumes and decorations.
Pinterest is a great source for ideas on a whole range of Halloween-themed craft and baking activities, and there are lots of free resources you can download from the internet too!
'TWEENAGER' GUIDE
If you have "tweenagers", they may be heading out on their own for the first time, so it might be an idea to put some safety tips in place. Ensure they have a planned, well-lit route that they stick to, and that the parents of all children involved know it in advance too. Stress to them the importance of all staying together and make sure at least one of them has a mobile phone, fully charged with key contact details on. If they are going to be crossing roads, ensure they have suitable length costumes and are not wearing hoods or masks that could obscure their view. With the nights' drawing in quickly, try to make sure they start as early as possible, but ensure they have torches, lanterns or other sources of light with them. Remind them never to go into someone's house, even if they may know of the person, and of course check the treats they have been given and not eat anything they are given whilst they are out that has been home-made or that they don't recognise.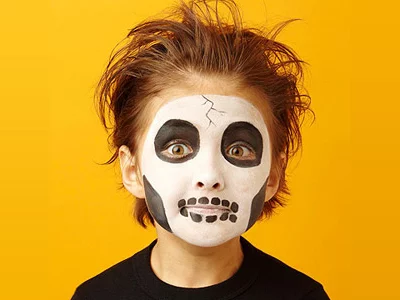 The best and safest Halloween events to go to are organised events, and at Brean Play we are offering two Spooktacular parties! The first takes place on 25th October, during the half term week, from 5.30 to 8.00pm with a Halloween Snow Globe, entertainment, competitions, food and activities, all for £9.99 per child, which includes free admission for one adult. Tickets are limited and this was a sell-out last year, so be sure to book soon!
The second takes place on Halloween itself, and although here in England we will back at school, we know this is half term for all our visitors from Wales. The After School Party is on from 4pm to 6.30pm. Details on both events, including purchasing tickets, can be found here:
We are also offering Shriek Weeks Half Term Breaks. Between the 20th and 31st October, it is the Shriek Week Spectacular, with up to 50% off of touring pitches and three nights breaks in hired units from just £49, based on four people sharing!
Daily Piglet Family Funtime and Halloween Magic Shows
Prize Bingo For All The Family
Sports Academy (weather permitting)
Ghoulish & Ghastly Face Painting
Family Swim Sessions
Spooky Arts & Crafts plus Circus Workshops
Party Dance Mania and Crazy Games Times