02/08/2019
In just six weeks time, 4 team members will be starting off on a cycle challenge from Bristol to Paris in support of the Bristol-based charity Above & Beyond.
Over the 4 days from the 11 September, when the challenge starts each of them will cycle a total of 480km before arriving in front of the Eiffel Tower on the Saturday.
Training is progressing well and the #teambrean team are now up to 80km in their training rides. During the challenge their greatest distance in one day being 145km.
We spoke to some of the team members to find out how their training is going.
Sarah House one of the Park Directors said, "Fitting in training is one of the hardest things but being disciplined to get out on the bike helps to make sure the training miles get done. It's also great to be out in the Somerset fresh air and sights albeit Somerset is fairly flat, Cheddar gorge provides good uphill training! So far the weather has also been kind and we are trying to get out on our bikes at least twice a week as well as spinning and gym sessions at our own Brean Splash Gym which helps a great deal"
Somerset does in fact have some great cycle routes including the Brean to Weston cycle path that opened in 2018 a route that is suitable for the whole family.
The team will be amongst 50 others taking in the Bristol – Paris challenge from all parts of the Country all with varying cycling ability.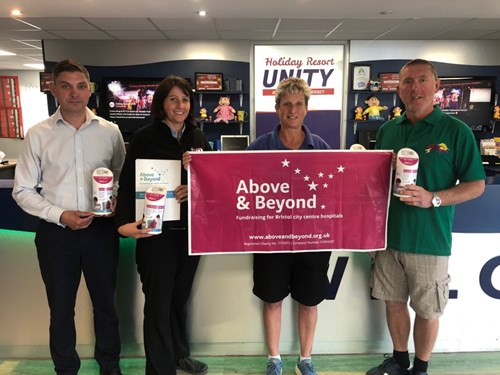 The Above & Beyond Charity supports hospitals across Bristol and with your support, Above & Beyond funds projects that make a real difference to patients, their families and the staff that treat them in Bristol city centre hospitals.
The surroundings where patients are treated has a significant impact on how they feel and their recovery. It is not just about comfort and distraction, it is about a positive, calm and welcoming space that gives confidence in the care they receive.
Above & Beyond helps by upgrading existing spaces, providing artwork and creating new spaces such as private rooms or visitor lounges. This creates a calm, relaxed and less clinical feel for a more pleasant and comforting atmosphere. The spaces that they help provide are fit to match the outstanding care provided by staff.
A fundraising target of £5000 has been set for the team to take part in the cycle challenge and they are nearly at the £2000 mark. So far fundraising events have included a team silly hat day at work, charity fundraising day at Brean Play, including a children's sale and teddy tombola, and various raffles and collections. The sale of 5p bags at Costcuterr supermarket will also be donated. More events are to take place in the lead up to the start of the event.
To follow the teams training, fundraising and see how they get on during the challenge which starts on 11 September see the following link https://b2p2019.everydayhero.com/uk/team-brean.