Our indoor Splash Zone fun pool has slides and interactive water features for children up to the age of 16. This is the place to head for some serious water fun.
If you just fancy a swim, indoor splash also features a 25m six-lane pool with the water heated to around 30 degrees. And the constant depth of 1.2m ensures it's toddler and small child-friendly. Indoor Splash is open all year.
There's more fun outside. Outdoor Splash boasts three waterslides, seaside water play area with three mini slides for children, and an amazing tipping bucket. Open from Whitsun through until the end of August.
Shallow baby pool & disco slide.
Don't forget, stay with us and you'll get half-price on admission during your holiday or buy a book of tickets in advance and save even more!
Session length is one, two or three hours. Admission prices vary based on what features are operating. View the operating grid here to give you an idea of what will be open during your visit
For the safety of all guests, we operate an under 8's policy.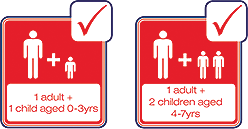 The under 8's policy is only relaxed during the morning family session which takes place in the 25m pool.
Lockers take 20p. For details regarding accessibility click here. 
For more information about Brean Splash, click here.
BACK to facilities