Coronavirus Update
Outdoor splash will be open from Saturday 18 July -24 July ahead of the full re-opening on 25 July.
Our operation will be a little different as we comply to COVID secure procedures.
The safety of our team and guests and comes first. Capacity has been reduced significantly.
We are welcoming guests of Holiday Resort Unity with a privilege pass or static caravan owner or seasonal tourer owners pass.
We will be offering a fun splash session in the following outside areas between Saturday 18 - Friday 24 July.
👉Outside Seaside pool for under 12's.
👉 Serpentine Slide (single riders and under 8's on an adult's lap)
👉 Turbo drop slide (single riders over 8's)
The river ride is closed due to the inability for our lifeguards to social distance. Note there is no physical outside swimming pool - this is a fun splash session.
Session length is 45 minutes. One session per day per person.
Come 'swim ready'. No access to changing rooms. Outside toilets available. Please shower on returning to your accommodation.
Book your tickets online here. Holiday Resort Unity guest's £2 per person. (0-3 years free)Under 8's policy applies requiring 1:1 supervision for under 4's. 1 adult to 2 children 4-7 years. Privilege Passes and ticket must be produced upon entry (ticket on phone is fine). Sorry no spectators due to capacity.
Holiday Resort Unity static caravan owners, seasonal tourers enter for free however pre booking is still required.
Session times across the day from 10am. Once a session is full further sessions will be released. Check back for the release of each day's sessions.
The full Waterpark (excluding river ride) and Gym will open on Saturday 25th July. session length 90 mins and £4 a person for Holiday Resort Unity guests.
Our indoor Splash Zone fun pool has slides and interactive water features for children up to the age of 16. This is the place to head for some serious water fun.
If you just fancy a swim, indoor splash also features a 25m six-lane pool with the water heated to around 30 degrees. And the constant depth of 1.2m ensures it's toddler and small child-friendly. Indoor Splash is open all year.
There's more fun outside. Outdoor Splash boasts three waterslides, seaside water play area with three mini slides for children, and an amazing tipping bucket. Open from Whitsun through until the end of August.
Shallow baby pool & disco slide.
Don't forget, stay with us and you'll get half-price on admission during your holiday or buy a book of tickets in advance and save even more!
Session length is one, two or three hours. Admission prices vary based on what features are operating. View the operating grid here to give you an idea of what will be open during your visit
For the safety of all guests, we operate an under 8's policy.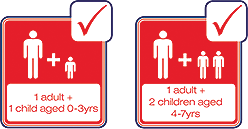 The under 8's policy is only relaxed during the morning family session which takes place in the 25m pool.
Lockers take 20p. For details regarding accessibility click here. 
For more information about Brean Splash, click here.
BACK to facilities